This article is to help current and prospective users of QBench determine if they should use worksheets to track their laboratory data.
What Is a Worksheet
In the simplest definition a worksheet is a fillable form/document that can be associated with a test or batch of tests (or samples). So if you are running a test that requires you to capture more than one data point you will need worksheets. This will be applicable to a single sample and test, or if your lab is processing multiple samples at a time (as a batch), you may need a worksheet for a batch.
Simple Example - Worksheet for A Single Sample Test
For example, if you are running a test called "Color" and the result is a single block of text (e.g. Light Pink, Milky), and you don't need to capture any other data points that are specific to this test you wouldn't need a worksheet. Keep in mind any data that you're capturing on the tests that's common across all of the tests in your lab likely would not need a worksheet and can be captured on the test itself. If, however, you were running a test called "Color Analysis" where you capture three color meter readings, and the analyst's physical observations you'd need a worksheet. See the figure below that illustrates this example: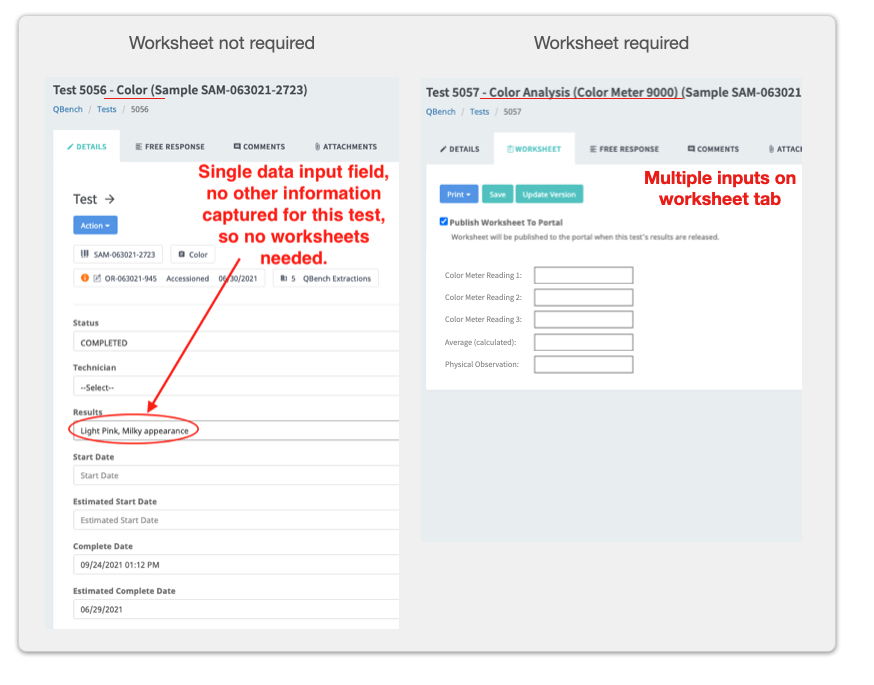 Batch Worksheet Example
Now let's say that your lab is processing samples in batch. In the above example (simple color test), for the physical observation by the analyst, the analyst must process one sample at a time. In this example, let's say you're using a plate reader that can handle a 16-well plate loaded with samples and simultaneously provide readings for all 16 samples. Furthermore, let's say the plate has a well that's loaded one control sample with the expected reading. An example of our plate is shown below.
Now we need to capture three readings for each sample in the batch including the control so an example of a batch worksheet would look like the example shown below: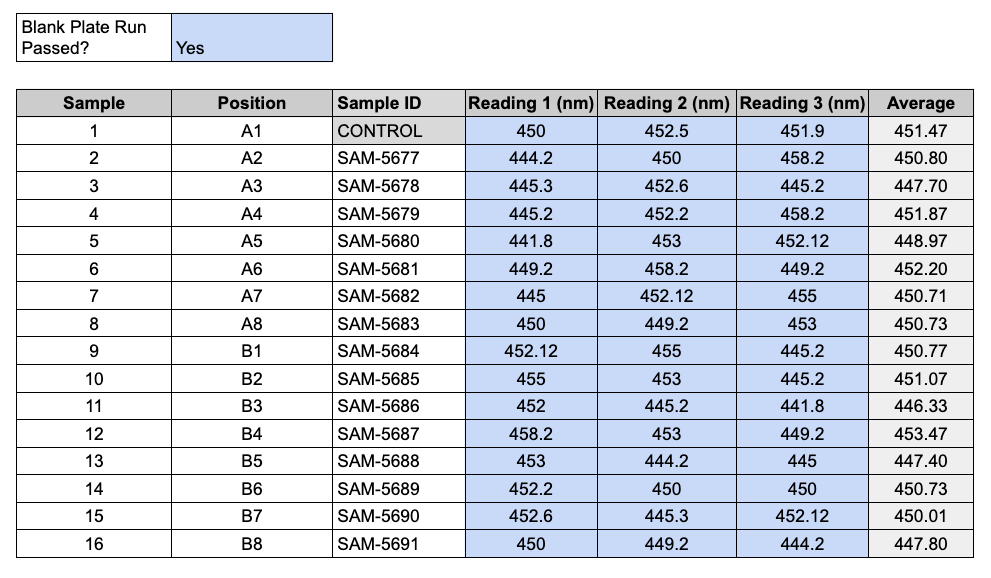 As you can see the worksheet above has multiple readings for each sample, and a total average, and it also makes it easy to have results input for the entire batch (if, for example, results are available in CSV format, they can also be uploaded to the worksheet). This example shows only a simple calculation, but if more sophisticated calculations or charting were necessary that would need to be done in a worksheet. The example below show a worksheet with more logic built in to highlight outliers, controls, charted data, and the final results for each sample: