Login Page
Logging into the Customer Portal will always require an e-mail and password.Please use the Log in to Customer Portal button indicated below. Customers WILL NOT be using the Access QBench button to view their Order Requests/Results.
Order Results Page
The Order Results Page is the home page for the Customer Portal. View Orders and Results that the lab has published to your portal. If you received an e-mail that your Order has been published, but do not see the Order, please contact your lab! The arrows at the top navigation bar in the image below denote where users can click to access the Order Results page. The arrows in the data table denote where users can click to navigate to the specific Order's result page.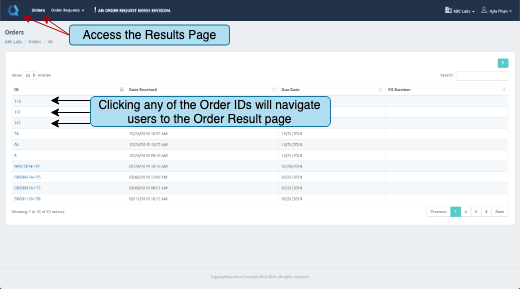 Viewing Results
You'll be able to see any results by navigating to a specific Order published by a lab. You can view Order, Sample and Test information that has been reported by the lab. Alongside information logged by technicians, you are able to view any Reports and Attachments (if published by the lab). If you are expecting to see a report or Test results but do not see that information posted on this page, please contact your lab!