Have Tests or Batches that require standard Inventory items or quantities? By utilizing Resource Groups, QBench Users can quickly and reliably assign the correct Inventory items and quantities to their Tests and Batches. Just configure a Resource Group and select the group on your Test or Batch and QBench will automatically suggest available Stock and -- if so configured -- populate a suggested quantity.
To start using Resource Groups:
1. Click on Configuration in the site navigation, hover over Lab, hover over Resource Group, then click +New Resource Group.

2. This will open the "New Resource Group" page. Create a Title for the Resource Group, enter a Description if desired, then click Save.

3. After saving the Resource Group, an Inventory Items tab will appear. Administrative Users will also have the option to delete the Resource Group by clicking Delete.


4. Click on Inventory Items. For newly created Resource Groups, no Inventory items will display. To add new Inventory items, click Add Inventory Items.

5. In the Inventory modal, you can select any number of Inventory items from the dropdown to add to your Resource Group. Once you have selected all of your required Inventory items, click Add.

6. The Inventory items selected in the Inventory modal will appear in a list on the Inventory Items tab. You will have the option to set a Default Quantity for each Inventory item. Default Quantity refers to the quantity per Stock if Stock quantity is enabled in Fields and Data Types-- if Stock quantities are not enabled, a Stock can be used indefinitely until it is marked as Consumed. If you specify any Default Quantities, click Save.

7. Now, go to the Test or Batch you want to use Inventory on, then click the Inventory Usage tab.
8. A grey Apply a Resource Group section will be visible on the tab. Select your Resource Group from the dropdown, then click Confirm. If you specified Default Quantities, these quantities will auto-populate under Edit Quantity. Your Inventory items' units will also appear next to each Item's Edit Quantity field. NOTE: If Stock quantities are not enabled, neither the Edit Quantity or Unit columns will be visible.

9. Choose a Stock for the Inventory item. You can use the Default Quantity or edit the Default Quantity to use; if Stock quantities are not enabled, just select a Stock. Click the Add button.

10. Each item you add will appear in a list underneath the Resource Group section. Any items that have not been added will still be listed in the Resource Group section.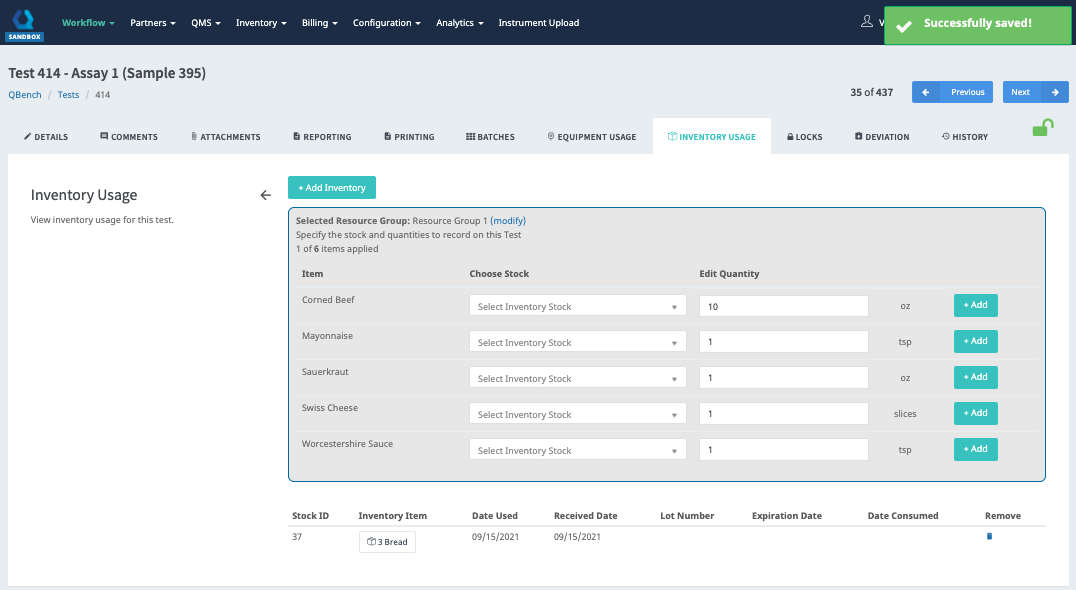 11. If you click the Inventory item and click the Stock tab, Stock that was used on the Test or Batch will reflect in the Stock's Quantity Used and in the Stock History.

12. To signify that a Resource Group was used, the Resource Group section will remain at the top of the Inventory Usage tab, even after you have added all items from the Group. All applied items will appear on the list.